EU calls for solidarity in dealing with the migrant crisis
Comments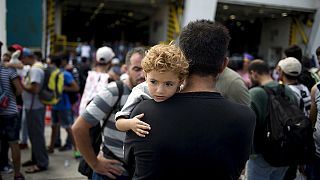 Europe is facing its biggest migration crisis in decades. In response the European Commission has doubled its emergency funding to 50 million euros , providing assistance to countries on it borders.
But with almost 50,000 migrants arriving in Greece in July alone, the EU's Foreign Policy chief Federica Mogherini has been asked if more should be done.
"We have to realise that the blame game is not bringing any kind of positive result for any of us. The main point is not saying who is doing his homework or not. The point is how do we face together the challenge and how do we manage together the issue?
But the pressure on the EU's borders is mounting.
Not since the wars of Yugoslavia's collapse in the 1990s has the cash-strapped western Balkans seen such large movements of people, when many Bosnians, Croats and Serbs displaced by fighting fled to the rich countries of Europe.
The Former Yugoslavian Republic of Macedonia has in recent days been flooded with migrants from Greece. Their response – to transport them as soon as they can to neighbouring Serbia as the migrants head for Hungary.
On Monday (Aug 24) eight thousand poured into Serbia in the space of 24 hours. State agencies threw up tents and scrambled to supple food and first-aid . But in the main the so-called "managing of migrants" seems to be limited to moving them on as quickly as possible..