Migrants: Vienna summit given added impetus
Comments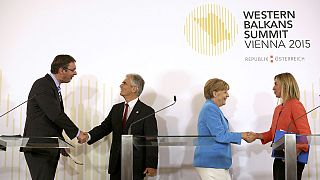 The discovery of a lorry containing the corpses of dead refugees on an Austrian motorway gave added impetus to a key summit on migration in Vienna.
The migrant crisis is the worst in Europe since the Second World War and is worsening by the day.
"These people come to Europe, and come to Europe for protection. They need Europe to protect them and we need to live up to our standards of human rights and respect of international obligations to protect them. We need a European approach, the problem is that everybody understands Europe in a different way." EU Foreign Policy Chief Federica Mogherini told those gathered.
The migrant flow is already much higher than the same period last year.
Thousands are arriving on the shores of Greece, Italy and Spain or overland through the Western Balkans like here in Macedonia.
Germany gets the most asylum applications of all the EU member states. It is expecting 800,000 this year.