Welcome to Europe: The Long Journey, part 5
Comments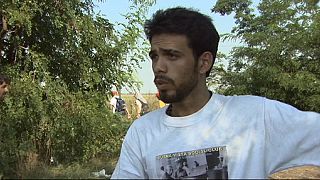 In part five of euronews' special reports, James Franey travels to the Serbia-Hungary border, where a fence is being built in an attempt to deter the thousands of people trying to enter the Hungary daily.
Welcome to Europe, in 2015
It's not a pleasant welcome for the thousands of migrants attempting to cross into Hungary each day. A razor-wire fence stretches much of the way across the Serbian-Hungarian border. The barrier is expected to be finished by the end of August, 2015.
The Mayor of Horgos, Serbia, says between 3,000 and 5,000 people pass through the village each day.
A makeshift camp has been set up, in an attempt to house those waiting to take the next step in the journey.
"Many of the refugees will spend the night in this makeshift camp before waiting for the right moment to cross into Hungary and into the European Union," euronews correspondent James Franey reports.
The beginning of the end?
Far from home, these migrants hope this is the beginning of the end of their long journey.
But even just a few footsteps from Europe's borders, all 20-year-old Mahdi can do is think of home.
"When I left Syria all the way I was crying," he explained. "When I had arrived in Lebanon, for six months, Every day I see Syria in my dreams. Every day. But we must complete our life. We must catch our dreams."
Nasir, a 24-year-old Iraqi national, outlined the journey so far.
"Greece and the Former Yugoslav Republic of Macedonia helped us to come here. UNICEF and the press have protected us. But what surprises me are the Arab countries like the Emirates, Saudi Arabia and Qatar, which caused the disasters in Iraq and Syria "
A country plagued by violence, Syria has been in the throes of a civil war for more than four years. With no end in sight to the conflict, people will continue to flee to Europe.
Report by James Franey