Merkel says Germany won't tolerate xenophobia and will help refugees
Comments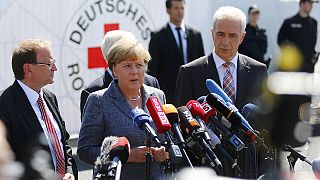 German Chancellor Angela Merkel said on Wednesday (August 26) her country would not tolerate xenophobia, after violent anti-refugee protests erupted at the weekend.
Merkel was visiting a newly opened refugee shelter in the town of Heidenau, between Dresden and the Czech border, which is facing an influx of refugees.
"We must put all of our efforts into making clear there is no tolerance for people who question the dignity of others," she told reporters. "There is no tolerance for those who are not willing to help where legal and human help is required. "
Germany is is the biggest recipient of migrants heading to Europe. It is expecting up to 800,000 asylum requests this year – four times more than last year. Underscoring how tense the situation has become, refugee shelters in the country are being attacked almost daily and politicians are warning of a rise in xenophobia.
The German government plans to double funding this year and unlock an additional 500 million euros to help towns like Heidenau cope with the influx of migrants.
Not everyone agrees with the move.
"We have enough problems in our own country. Our own problems to solve," said local resident Jugen Ritzmann. "It's very sad. We also have child poverty, and that's what she [Merkel] has to take care of above all. What is happening here is sad but I cannot say much more about it."
Last weekend in Heidenau, more than 30 police were injured in clashes with right-wing protesters who tried to stop several hundred asylum seekers from settling into the new refugee shelter.
Left-wing activists later staged counter-demonstrations and also clashed with the protesters.
Merkel has condemned the violence shaking Heidenau as "shameful".