Putin says Russia is to beef up its nuclear arsenal
Comments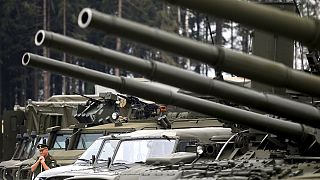 Russian President Vladimir Putin has announced that Moscow is boosting its nuclear arsenal.
It comes after Kremlin officials denounced a US plan to station tanks and heavy weapons in NATO states along Russia's border.
They say it is the most aggressive American act since the Cold War.
"More than 40 new intercontinental ballistic missiles, able to overcome even the most technically advance anti-missile defence systems, will be added to the make-up of the nuclear arsenal this year," said Putin.
Tension is high between Russia and the US over the Ukraine crisis and other issues.
Moscow has warned that it will retaliate if Washington goes ahead with its military equipment manoeuvres.
Poland and the Baltic states are welcoming America's plans.