Italy rescues 3,300 Mediterranean migrants in one day
Comments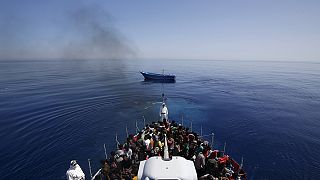 Italy's coastguard said on Friday that it had helped coordinate the rescue of more than 3,300 migrants in the Mediterranean in the space of just 24 hours.
But as rickety boats packed full of people continue to make the dangerous crossing, notably from Libya, 17 bodies were found on a number of boats.
Italy is bearing the brunt of Mediterranean rescue efforts but Irish and German naval ships were heavily involved in the latest operations as EU member states step up their role in dealing with the migrant crisis.
A European plan to disperse migrants from Italy and Greece to other nations within the bloc, however, has met with some resistance.
Refugees escaping war and political persecution as well as economic migrants are pouring into Italy.
At least 35,000 have reached its shores so far this year. Some 1,800 more are either dead or missing.