Migrant crisis: Flaws in EU policy
Comments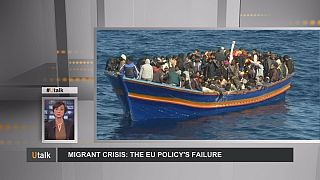 This week on Utalk, many of you have commented on our latest edition of Reporter, which focused on the dramatic situation of migrants in Calais, in northern France.
Fleeing war and dictatorships, more clandestines than ever are seeking refuge in Europe, where politicians complain a lot about the situation, but appear powerless.
Samir asked us "What is the EU doing to handle these migratory flows?", and Claude: "Is Europe able to take in these refugees?"
Our reporter, Valérie Gauriat, replies:
"What's problematic for the European Union is that it is still desperate for a common immigration policy. There is a whole range of measures, but they're often non-binding.
An agency called FRONTEX manages cooperation at Europe's external borders, and that involves a vast and highly-disputed security apparatus.
Not only is the number of illegal migrants rising sharply as conflicts spread, but they take ever-greater risks to reach Europe.
Also, the European asylum system stumbles over the Dublin Conventions, whereby a migrant must apply for asylum in the first host country – if he goes elsewhere, he can be sent back to his country of arrival.
So everyone is trying to get rid of the migrants who get sent back and forth, and thousands of people are kept for months or years in hiding and poverty.
Obtaining a proper visa for the EU is a real – and very lengthy – obstacle course. And when you are fleeing war or a dictatorship, finding a safe haven is imperative.
Regarding the EU's ability to welcome more migrants, Europe is aging, and some countries need more workers. It is also a matter of how refugees are spread out, which can be very uneven from one country to the next.
It's also worth pointing out that developing countries are those taking in 80 percent of the world's refugees. And one can question the EU's responsibility towards victims of conflicts and regimes that are often supported by European states."
If you would also like to ask a question on Utalk, click on the button below.