Data raises questions over EU's attitude towards asylum seekers
Comments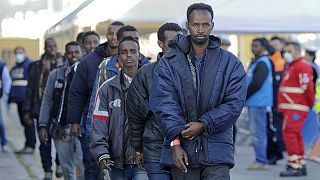 New data has shed fresh doubt over the EU's attitude to asylum seekers after a weekend in which more than 700 migrants drowned trying to reach the continent.
Figures examined by Euronews shows there is little sharing of the migrant burden with just four countries – Germany, Italy, France and Sweden – taking around two-thirds of the EU's asylum applications last year.
Germany received the most with 202,815 requests, nearly a third of the EU's total, according to data from Eurostat. Sweden had the most applications as a proportion of its population, with 8,432 applications for every million of its inhabitants.
This compares with Portugal, which had 445 asylum demands in 2014, or 43 per million of its population.
There are also vast differences around what proportion of requests are accepted.
Hungary received 42,775 requests in 2014. It gave the green light to just 9 percent of initial asylum applications.
By contrast Bulgaria, which shares a border with Turkey and is a key route into Europe for Syrian refugees, approved 94 percent of initial asylum requests. It had 22,850 asylum applications in 2014, which translates as 2,039 demands per million of its population, above the EU average of 1,237.
The data does not correspond to the wishes of the EU's common asylum policy, which states: "Asylum must not be a lottery. EU Member States have a shared responsibility to welcome asylum seekers in a dignified manner, ensuring they are treated fairly and that their case is examined to uniform standards so that, no matter where an applicant applies, the outcome will be similar."
It comes amid criticism over the EU's response to the deaths of migrants in the Mediterranean.
Italy's more expansive search-and-rescue operation, Mare Nostrum, was stopped at the end of October 2014, with Rome frustrated at taking the responsibility for what it saw as Europe's problem.
It was replaced with a cheaper, less proactive alternative, called Triton.
Analysis carried out by Euronews in February revealed Mare Nostrum, with an annual budget of 108 million euros, saved 12,568 people per month. EU's Triton operation, budget 36m euros, rescued 6,060 people per month.
Overall asylum requests in the EU have risen by 400,000 since 2008, hitting 626,710 in 2014.
Last year the UN said conflicts in Syria, Iraq and Afghanistan meant the number of refugees had topped 50m for the first time since World War II.