France: Second day of strikes causes air-travel chaos
Comments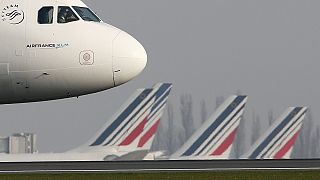 A second day of air traffic control strikes in France has seen hundreds more flights cancelled.
Passengers have been left frustrated as French civil aviation authority DGAC announced one in two flights would be cancelled on Thursday (April 9), a ten percent increase on the previous day.
#greve jeudi 9 avril : 1 vol sur 2 annulé pic.twitter.com/HNUqKwHNmf

— dgac (@DGACfr) April 8, 2015
Why the strike?
Air traffic controllers are rallying against plans to raise the retirement age to 59 from 57 and are upset over working conditions.
One man, who was stranded in Paris Charles de Gaulle airport, spoke of the follow-on consequences on passengers whose travel plans were disrupted:
"Yeah, it's difficult, especially since I've already flown six hours to get here. Now I'm waiting till tomorrow to leave again. I can't lose two days of work," he said.
The strike is also causing problems outside of France.
One woman said she was attempting to fly to the country from Madrid, Spain:
"Flights are blocked in Paris, so we can't get there," she said.
Further industrial action is planned between April 16 and 18 and from April 29 to May 2 – key holiday periods in France and elsewhere in Europe.
Grève des contrôles aériens : Des centaines de vols annulés en France (@AFP), Photo prise ce matin à @lyonaeroportspic.twitter.com/2k0m5TWVrr

— euronews en français (@euronewsfr) April 9, 2015