Kenya mourns the victims of the al-Shabaab massacre
Comments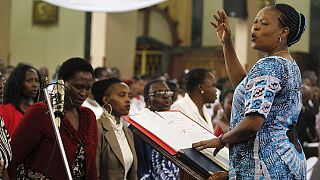 Kenya is holding three days of mourning for those who died in Thursday's attack on students by al-Shabaab militants.
It was a massacre, not an incident.
So far only 54 of the 148 victims have been identified by their distraught relatives.
Almost all those killed at Garissa University were students, another 79 were injured.
a prayer for the victims #KenyaAttack#Kenyapic.twitter.com/sAgkAHCIyp

— Anto ʘ‿ʘ (@BresciaAnto) April 5, 2015
A massive investigation is under way to try to find the suspected mastermind behind the attack. The authorities are offering a reward for the capture of Mohamed Mohamud.
It has also emerged that one of the four gunmen
who raided the university seeking out non Muslims to kill has been identified as the son of a government official. He has been named as Abdirahim Abdullah, an ethnic Somali with Kenyan nationality.
Police have now stepped up security not only in Garissa but in several major cities at shopping malls, and other public buildings.
Churches in particular have been given extra protection.
"It was a massacre. Not an incident. So many young lives that were spent just like that, without any reason. The only reason was that they were not Muslims, that was the only reason," said Bishop Joseph Alessandro, Priest of the Our Lady of Consolation Catholic Church.
The victims have been remembered in Kenya's traditional Easter services. Both Christians and Muslims alike have condemned the attack as did Pope Francis during his Easter message in Rome.
Al-Shabaab has said it carried out the killings in retaliation for acts by Kenya's security forces who are part of the African Union's mission in Somalia against the militants.