Kenya says son of government official was among gunmen in college campus massacre
Comments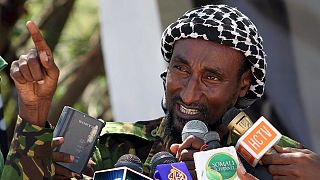 As Kenya hunts the suspected mastermind of the college massacre that left 148 people dead – offering a 200,000 euro reward for the capture of Mohamed Mohamud – it has emerged that one of the gunmen involved was the son of a government official.
Named as Abdirahim Abdullahi – his father based in a border region with Somalia – he and three other attackers were killed in the siege, having slaughtered mainly student victims.
Amid three days of national mourning, survivors have been reunited with their families at a sports stadium in Nairobi.
Some are still physically injured. Many are deeply traumatised.
"As much as I'm grateful, I wish my friends were here because I wish they could share this moment with me, with their parents," said 18-year-old Lavenda Mutesi.
"I have lost many of my friends," added fellow survivor Lydia Mwende.
"The events which happened, which took place and whatever we went through is still in our minds so we can't forget. I can't go back there."
Garissa University is shut indefinitely.
Christians were targeted in the siege and al-Shabaab Islamists, based in neighbouring Somalia, have promised more of the same – vowing Kenya's cities will 'run red with blood'.
Kenya's President Uhuru Kenyatta says those behind an attack were "deeply embedded" in Kenya, and called on Muslims at home to help prevent radicalisation.
He made the comments in a televised speech on Saturday after the Interior Ministry said five suspects in the assault had been detained, some while trying to flee to Somalia.
Four suspects were Kenyans of Somali origin, and the fifth was Tanzanian, the ministry said.
The authorities put their bullet-ridden, swollen bodies on display on Saturday, hoping that crowds coming to view the corpses might identify them.