Kenya declares three days of mourning after Garissa atrocity
Comments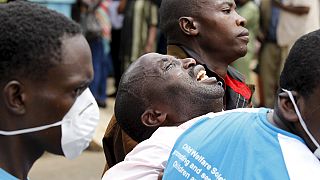 Survivors of the attack by al Shabaab on a Kenyan university have been taken by bus from the campus to continue their studies elsewhere in the country.
Declaring three days of mourning after Thursday's massacre at Garissa University, Kenya's president vowed the extremists would not succeed in creating an Islamic caliphate.
Kenya would do everything, Uhuru Kenyatta said, to defend its way of life.
The authorities say five men have been arrested over the attack in which nearly 150 people were killed.
"To the families and friends of the survivors and indeed all Kenyans, I want you to know that our security forces are pursuing leads on the remaining accomplices. We shall employ all means at our disposal to bring the perpetrators to justice. We're also in active pursuit of the mastermind of the attack and have placed a reward for the information leading to his capture," Kenyatta said.
The president urged more help from the country's Muslims in the anti-terrorism effort, saying those who planned and financed the atrocity were deeply embedded in the community.
The bodies of four alleged attackers who died were displayed in public in Garissa on Saturday, before an estimated crowd of some 2,000 onlookers.
In Nairobi there was more grief as relatives of those killed had their loss confirmed.
Even though non-Muslims were targeted in the attack, Muslims were among the dead.
Al Shabaab, linked to al Qaeda, has vowed to carry out more attacks in Kenya in protest at the country's military presence in Somalia.