Al Shabaab threatens Kenya with more attacks, saying cities will 'run red with blood'
Comments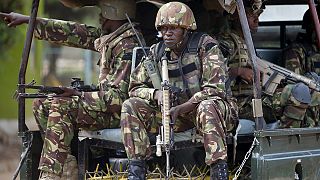 Al Shabaab militants have threatened Kenya with further attacks after Thursday's university campus massacre, warning the country's cities 'will run red with blood'.
A statement by the Somali Islamist group also said: 'No amount of precaution or safety measures will be able to guarantee your safety, thwart another attack or prevent another bloodbath from occurring in your cities.'
Kenya has made at least five arrests and imposed a dusk-to-dawn curfew near the porous border with Somalia following the rampage by masked al Shabaab gunmen that left at least 148 people dead, nearly all of them students.
Authorities are under pressure for not preventing the bloodshed at Garissa University College campus, some 200 km from the Somali border,despite apparent warnings of an attack. But tightened security measures come too late for those caught up in the massacre.
Amid fears the death toll will rise, survivors of the rampage have been speaking about their ordeal. During the 15 hour siege, one woman said she witnessed an Islamist gunman discovering a student who was desperately calling her mother.
"He took her phone from her and he told the lady that: 'I'm going to kill your child right now – so now is the last time you are going to hear her voice. So hear me kill her.' And I heard a gun shot," said Daisy Achieng.
Student Reuben Mwavita, 21, said he saw three female students kneeling in front of the gunmen, begging for mercy.
"The mistake they made was to say 'Jesus, please save us', because that is when they were immediately shot," Mwavita said.
Many students fled into the sandy scrubland, scaling barbed-wire fences and jumping off buildings, often half-naked, as they were awoken by the sound of gunfire and explosions.
"The attackers were just in the next room. I heard them ask people whether they were Christian or Muslim, then I heard gunshots and screams," said Susan Kitoko, 24, who broke her hip when she jumped out of the first floor window of her dorm.
Christians were targeted in the siege. Four gunmen involved are now dead but despite fears of further attacks by Somali al Shebab militants in Kenya, President
Obama has confirmed he still plans to visit the country later this year.
Al Shabaab says its recent wave of attacks are retribution for Kenya sending troops into Somalia to fight the group alongside other African Union peacekeepers.
The group, which at one point controlled most of Somalia, has lost swathes of territory in recent years but diplomats have repeatedly warned this has not diminished al Shabaab's ability to stage guerrilla-style attacks at home and abroad.