Surveillance footage shows gunmen at Tunis museum
Comments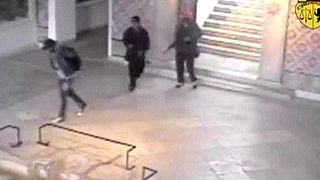 Surveillance footage has been released, showing two gunmen at the Bardo museum in Tunis ahead of a shooting spree which left 20 foreign tourists dead.
It also captures the attackers bumping into a man as he comes down a flight of stairs and is able to flee.
A photo has also been distributed, apparently showing an explosives belt around the waist of one of the gunmen. Both attackers were killed by police.
As authorities investigate Wednesday's shootings, the family of one of the gunmen – named as Yassine Laabidi – is calling for authorities to root out those behind his involvement.
"Our son has killed someone, we are sad for the people who died and we're sad for the policeman who was killed and left a son behind," said Ana, who said she is a friend of the family.
"But our son is a victim and he died very young. So find the people who dragged him into all of this. Go and look in the mosques."
Tunisia's government says the gunmen had trained in jihadi camps in Libya.
Twenty suspected militants have now been detained over the museum attack.