Tunisia arrests over 20 suspected militants following Bardo shootings
Comments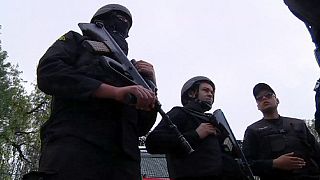 More than 20 suspected militants have been arrested in Tunisia, in the wake of the deadly shootings at the capital's Bardo Museum.
Within the group are ten people believed to have been directly involved in the attack.
The assault by masked gunmen resulted in the deaths of 20 foreign tourists and three Tunisians.
'No place in Islam'
Leader of the country's moderate Islamist Ennahda Party, Rachid Ghannouchi, strongly condemned the shootings.
"I was very sad and very angry about what happened (in) this terrorist act, which has no place in Islam and in our Tunisian heritage," he declared.
Deadliest recent attack on foreigners
Meanwhile the bodies of the foreign victims are being flown home. In Rome, Prime Minister Matteo Renzi paid tribute to the four Italians who were killed in the shootings.
The Tunis attack was the deadliest involving foreigners in Tunisia since a suicide bombing in Djerba in 2002.
Islamic State militants have claimed responsibility for the assault on the Bardo Museum, although an al-Qaeda offshoot group within Tunisia has also reportedly published details about the operation.