Germany's PEGIDA group loses its second leader in a week
Comments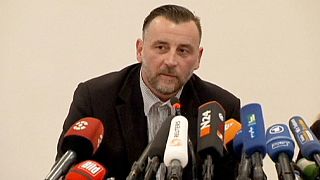 There is disarray in Germany's controversial anti-Islam movement PEGIDA.
The woman who recently took over the leadership of the group has quit, citing media pressure.
Kathrin Oertel replaced the founder of the group, Lutz Bachmann, just a week ago.
He caused a storm after pictures showing him disguised as Hitler appeared in the media.
Oertel says she is not strong enough to handle what she calls the "massive hostility" and threats, and also the impact on her career.
In a statement, the group added: "Even the strongest of women has to take time out when at night photographers and other strange figures are sneaking around outside her house."
Four other officials have also announced their resignation from the group.
PEGIDA, which stands for Patriotic Europeans Against the Islamisation of the West, has been holding weekly rallies in Dresden.
The group has been widely condemned in mainstream political circles and counter rallies against PEGIDA have been organised across the country.
It is still unknown how the loss of its second leader in a week will have an impact on the future of the group.
Leading members of #Pegida including spokeswoman Kathrin Oertel are stepping down: http://t.co/5UV4GWPNm8pic.twitter.com/NrewTsVXo4

— The Local Germany (@TheLocalGermany) January 28, 2015
The end of Pegida? http://t.co/HYeVAI2MGO

— kosmopolit (@kosmopolit) January 28, 2015
Germany: a rock concert for tolerance http://t.co/6JgGxDWagB

— euronews (@euronews) January 28, 2015
Merkel embarrassed by Dresden protest ban after threat to Pegida http://t.co/e8yvG4QHt2

— euronews (@euronews) January 20, 2015