French parliament honours terror victims as new security steps are announced
Comments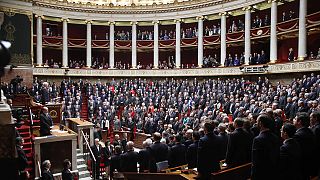 At an emotionally-charged, special session of France's
National Assembly, deputies have held a minute's silence to remember the victims of last week's attacks in Paris.
Prime Minister Manuel Valls gave an impassioned speech in which he defended French values.
And, after the deployment of thousands of soldiers on home soil, he announced further measures to reinforce security and fight terrorism.
"Yes, France is at war against terrorism, jihadism and radical Islam," he told members of parliament.
"France is not at war against a religion. France is not at war against Islam and Muslims. As it has always done, France will protect all its citizens, those who have a faith and those who don't."
Among the steps, "radicalised" inmates will be segregated in prisons and efforts will be made to reinforce security on the Internet, notably on social media.
The premier also stressed the need to fight anti-Semitism and hailed the mass demonstrations in defence of French values, as well as support from abroad.
In a highly unusual move, reportedly not seen within its walls since the end of the First World War, members of parliament throughout the chamber joined together to sing the National Anthem, La Marseillaise.