"They died so we can live freely": France pays tribute to police killed in Paris attacks
Comments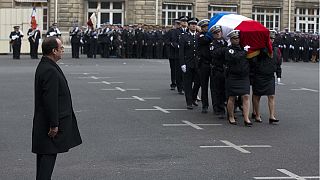 "They died for our freedom," said French President François Hollande in a moving speech dedicated to the police officers who were brutally killed in the Paris attacks.
Franck Brinsolaro, Ahmed Merabet and Clarissa Jean-Philippe, were "gunned down in the line of duty"http://www.euronews.com/2015/01/12/key-questions-around-the-charlie-hebdo-killings-go-unanswered/.
Hollande posthumously awarded them the National Order of the Legion of Honour, before paying tribute to the officers' courage.
"They died with courage, bravery and dignity while carrying out their mission," he said. "They died as police officers … Clarissa, Franck, Ahmed died so that we can live freely."
The ceremony, held at the Paris Police Prefecture, was attended by the families, loved ones and colleagues of the three fallen officers.
The mother of Clarissa Jean-Philippe emotionally told the president that she found her daughter's death physically painful.
Members of the Charlie Hebdo team were also in attendance. They plan to go ahead with the regular Wednesday publication of the satirical magazine, which was at the centre of last week's merciless killings.