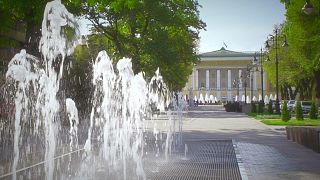 Our Postcard this week comes from Almaty city, where a large part of the historic centre has recently been given a revamp.
Key facts about the Kazakh region of Almaty:
The region is in the country's southeast
It shares a border with Kyrgyzstan & China
It covers an area of 225,000 sq kms
The city of Almaty is the country's largest
It is a former capital of Kazakhstan
 
With the help of a Danish urban designer, Jan Gehl, traffic has given way to new places where people can relax.
Fountains, gardens, designer-benches and playgrounds have also appeared and facades have been spruced up.
Euronews' Seamus Kearney reported: "As well as opening up public spaces and creating more pedestrian zones, cycling is being encouraged, with lots of public bikes to rent."
Zhanna Tulegenova, the CEO of the Almaty Development Centre, told Postcards: "Two things are important for the sustainable development of the city: strong business and people who are content, who can now go for a stroll, enjoy the evenings, play the guitar, for example.
"The results inspire us to move towards other changes to make people happier."
And it is also now more pleasant, for example, for local artists who traditionally sell their work in the street.
The revamp is just one of many regeneration projects in the pipeline, in a city already known for its abundance of trees.