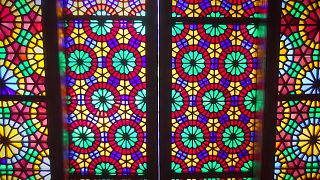 In this episode of Postcards from Azerbaijan, we will discover Sheki Khans' Palace and its sliding windows, or shebeke.
"In the book of life every page has two sides: we human beings fill the upper side with our plans, hopes and wishes, but providence writes on the other side, and what it ordains is seldom our goal." Nizami Ganjavi
The Sheki Khans' Palace was built in 1797 for Muhammad Hasan Khan and its decoration was inspired by the work of the celebrated Persian poet, Nizami Ganjavi.
Most of the buildings that comprise the Palace have been destroyed: the one that still stands is the summer palace, which was rebuilt between 1953 and 1967.
Key facts about Azerbaijan
Azerbaijan is a country in the South Caucasus region, between Southwest Asia and Southeastern Europe.
The Azerbaijan Republic declared its independence in 1918 before being incorporated into the Soviet Union in 1920. The modern republic declared its independence in 1991.
Its capital city is Baku
With a population of nearly 10 million, it covers an area of 86,600 square kilometres.
shebeke
The origins of the art of shebeke go back to the eighteenth century, although for a long time it was a craft that was looked down upon.
Little pieces of coloured glass are inserted into a wooden lattice usually made from walnut or oak.
For euronews, Aurora Velez reports that, in these windows, or shebeke, more than 14,000 pieces are assembled, using neither nails nor glue. A masterclass in marquetry and patience.
How are they made?
In the Silk Road era, Azeri merchants bartered for the materials needed to make shebeke: Murano glass from Italy in exchange for spices and silk.
Tofig Rasulov, Shebeke Master, explains:
It takes six months to build one square metre. If you make a single mistake of less than one millimetre in a single piece, the whole thing will not work. To restore the Khans' palace, they used tweezers and the whole process took two years.
The shebeke are like light itself: fragile in appearance but robust and reliable in their everyday use.
TazanaAbdullayeva <a href="https://twitter.com/hashtag/XanSarayi?src=hash">#XanSarayi</a> director about what she prefers in this <a href="https://twitter.com/hashtag/XVIII?src=hash">#XVIII</a> <a href="https://twitter.com/hashtag/palace?src=hash">#palace</a>. <a href="https://twitter.com/hashtag/shebeke?src=hash">#shebeke</a> <a href="https://twitter.com/hashtag/windows?src=hash">#windows</a> <a href="https://twitter.com/euronews">euronews pic.twitter.com/MzdkS5D1YK

— Aurora Velez (@goizlyon) June 30, 2017