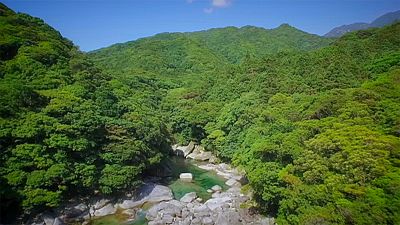 This week in Postcards we visit Yakushima island off the southernmost tip of mainland Japan.
This site of outstanding natural beauty is nicknamed the Alps of the Sea, with a mountain range that climbs to almost 2,000 metres.
Key facts about Japan:
It is an island nation in East Asia
The population is more than 127m
Land area is just under 378,000 km2
The country's currency is the Yen
Main religions are Shinto & Buddhism
Euronews' Seamus Kearney reported: "There are lots of hiking trails on Yakushima for all levels of fitness, providing access to some of the most beautiful sights, including world famous trees that are thousands of years old."
A hike to see the cedar trees known as Yakusugi is well worth the effort.
The Postcards team had time to visit one that is about 3,000 years old.
But a longer trail will take you to a tree that some experts believe could be more than 7,000 years old.
Takeshi Matsumoto, President of the Yakushima Tourism Association, told euronews: "Although it's been 20 years since Yakushima was designated a World Heritage Site, the island still has enduring popularity."
And it's easy to understand why some describe the island as paradise.