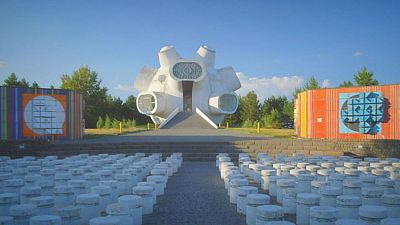 In this episode of Macedonian Postcards we're in the central town of Krusevo.
Key facts:
Neighbours are Bulgaria, Albania, Kosovo, Serbia & Greece
The total land area is more than 25,000 square kilometres
Macedonian is the main language, followed by Albanian
The country's population is more than two million
Skopje is the capital and Bitola is the 2nd largest city
A monument here pays tribute to the hundreds of rebels killed by Ottoman forces during an uprising in 1903.
A newly-declared Krusevo Republic lasted just 10 days.
Euronews' Seamus Kearney reported: "Inside the monument there is a gallery of art and sculptures that represent Macedonian history. There's also an eternal flame and other details about the uprising."
The monument (also known as Makedonium) was opened here in the country's highest town in 1974.
It houses the tomb of the president of the Krusevo Republic and is also dedicated to those who took part in later independence struggles.
Boris Markoski, a guide at the monument, told Postcards: "It has the shape of a spiked war club, or an exploding bomb, which symbolises the fight by the Macedonian people for their fatherland."
And it's clear that with such an unusual monument overlooking this town, the events of 1903 are far less likely to be forgotten.