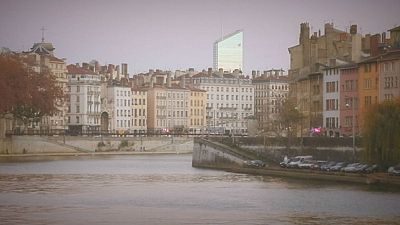 Our new series of Postcards comes to you from Lyon, the French city where two major rivers join up.
Euronews' Seamus Kearney reported: "Lyon's known for its beautiful sights but there are also some great bird's-eye views.
Key facts about the city of Lyon:
It is France's second largest metropolitan centre
Its history goes back more than 2,000 years
The Roman Emporer Augustus made it the capital of the Gauls
The Rhône and Saône rivers join up in Lyon
It is considered to be the French capital of gastronomy
"And it's at the lookout beside Notre Dame de Fourvière that you can really see the changing skyline of Lyon."
A tower shaped liked a pencil used to be the highest in Lyon, but now there is one even taller, at 200 metres.
The new Incity tower is in a business district called Part Dieu, where there's a major railway station and redevelopment is underway.
Albert Constantin, co-architect of the Incity tower, told Postcards: "Now that a certain number of towers have sprung up, the district needs to be developed, above all to make Part Dieu lively and not just for business, with housing, shops, culture, and of course offices.
"Incity is like a symbol of the new Part Dieu area."
To see the breathtaking views over Lyon there are several public transport options, including funicular railway lines, but everything is also doable by foot.