EU mulls expanded naval mission in Libya
Comments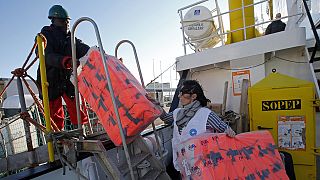 The EU is considering an expanded naval mission off the coast of Libya to stem any new flow of migrants towards Europe.
It follows concerns that were raised by France, Italy and Spain.
"It is indispensable to ensure Libya's stability, the security of Libyans and also its borders," French Foreign Minister Jean-Marc Ayrault was quoted by the Reuters news agency as saying.
"We must do all we can to fight against the human smugglers and arms trafficking," he told reporters, referring to the United Nations arms embargo on Libya, in place since 2011.
That plan is being debated by EU foreign and defence ministers.
They will also discuss sending security personnel to train Libyan police and border guards.
The EU's Sophia mission started last year, but is too far from the coast to prevent a surge of migrants making the crossing