Hundreds of migrants rounded up in Tripoli
Comments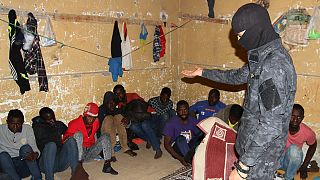 203 refugees and migrants found in Tripoli
Warnings of more travel on the Central Mediterranean route
France and Germany offer support
What has happened?
Libyan security forces have detained more than 200 migrants in an early morning raid on two hideouts in the capital, Tripoli.
Who are they?
Mostly young men
from various African countries
planning to board boats to Italy
Why is there so much concern?
eNCA | Tripoli detains over 200 migrants during police raid https://t.co/eKan7hXayc#ENCA#Africa

— AfricaMediaNetwork (@AfricaMedia54) April 17, 2016
Many fear that migrants are now taking the dangerous sea route from Libya into Italy https://t.co/Z3xwbKpYuipic.twitter.com/ibqTRqGW8K

— The New York Times (@nytimes) April 15, 2016
The International Organisation for Migration says almost 6,000 refugees and migrants have sailed from Libya to Italy in recent days.
The organisation has warned it could be the start of a wave of 100,000 new arrivals and "possibly many, many more".
The shorter, relatively safer route via Greece has been blocked.
Austria is also preparing to block unhindered travel over its border with Italy.
2015 – 153, 842 migrants arrived in Italy
2015 – 1,000,000 migrants arrived in Greece
What they are saying
"We raided two migrant hideouts in Tripoli and detained 203 illegal migrants from various African countries that were preparing to leave Libya to Europe's shores" – Libyan security official.