Pope Francis visits Syrian refugees on Lesbos: a 'day to cry'
Comments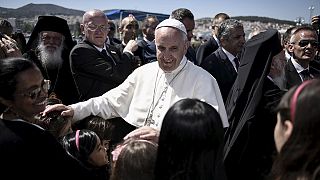 Pope Francis said his day visiting refugees on the Greek island of Lesbos had been a "day to cry."
He returned to Rome, with a dozen extra passengers who travelled back with him from a refugee camp on the Greek island of Lesbos.
The pope appeared visibly moved by what he'd seen there.
"In that refugee camp, it just made you cry," said Pope Francis. "Those children. I brought these with me to show you. The children gave me a lot of drawings. Look at this one. What do children want? Peace."
The three refugee families were treated to a raucous welcome in Rome, with drummers thumping, a crowd applauding and the three mothers receiving a single red rose.
The Community of Sant'Egidio, a local charity, took the 12 refugees in after their remarkable flight from Greece aboard the pontiff's charter plane.
The Vatican said the three families, including six children, will be supported by the Holy See and cared for initially by Sant'Egidio.
In a hastily organised news conference outside Sant'Egidio's headquarters, the refugees thanked Francis and expressed hopes of returning home one day.
Two of the refugees, Nour and Hasan, are both engineers who lived with their two-year-old child in Zabatani, a mountainous area near the Lebanese border that has been bombed.
Another family with two children hailed from Damascus, while a third family with three children came from Deir el-Zour, a city close to the Iraqi border that the group calling itself Islamic State (ISIL) has been besieging for months, leading to widespread malnutrition.
Daniela Pompei, the Sant'Egidio member who accompanied the Syrian refugees from Lesbos to Rome, confirmed that the idea to bring the refugees home came from one of the pope's advisors and that Sant'Egidio helped the Vatican make it happen.
According to Pompei, the Syrians were selected to come to Rome because they had legitimate claims for asylum, with two of the families fleeing Syria after their houses were bombed.
She said the three families had been given Italian humanitarian visas and would now apply for asylum.
Francis said they were selected because their papers were in order.
They had arrived on Lesbos before the EU deportation date on 20 March.