Germany snubs Greece's EU loan offer
Comments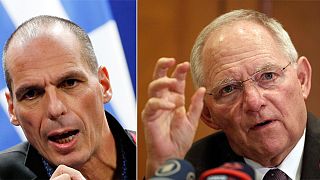 Germany on Thursday rejected Greece's request for a six-month extension to an EU scheme of emergency loans.
Berlin's decision came shortly after the European Commission described the move as "positive".
Athens made the request in a letter late on Wednesday to Jeroen Dijsselbloem, the head of the Eurogroup.
The Eurogroup is the informal body of finance ministers from countries that use the single currency.
Greece – Letter to the Eurogroup
Greece is expected to run out of cash by the end of this month if no deal is struck amid fears that investors will continue to pull their money from Greek banks.
The ruling Syriza party was elected on a platform of renegotiating the country's debt and watering down some of the austerity measures agreed with the troika: the ECB, the IMF and the European Commission.
But all 19 eurozone finance ministers have to reach a unanimous agreement for any accord to be found.
Yet those negotiations are expected to be tough with Germany so far remaining unconvinced, euronews' Efi Koutsokosta reports from Brussels.