Greeks nervous about Friday's loan extension meeting
Comments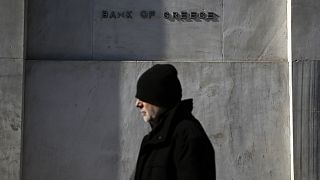 Many people in Athens have been speaking of their anxiety and concern as the Greek government formally requests a six-month extension to its eurozone load agreement.
"I am afraid of how our partners will behave, I am really afraid of this," said Yannis Panagiotopoulos. "They do not show that they are on the side of the Greeks. Of course we too have been behaving recklessly, but after all we are not really asking for anything that bad."
Others people, such as Vassilis Koufis, are optimistic.
"I believe a solution will be found in the end, but solutions are never in favour of the weak," said Koufis. "Based on this, I believe we will carry on pretty much the same way, but maybe some conditions will improve."
Eurozone finance ministers will meet on Friday (20 February) afternoon in Brussels to consider Greece's request for the extension.
That has raised hopes of a deal to avert possible bankruptcy and a Greek exit to the 19-nation currency zone.