Greece formally submits request for bailout extension
Comments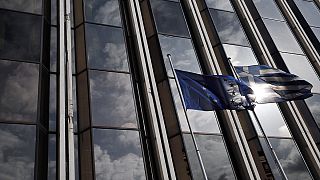 Greece has officially submitted a request for a six-month extension to its euro zone loan agreement.
The country's bailout plan is due to run out in just over a week, and the new government of leftist Alexis Tsipras is promising to find solutions that do not include strict austerity.
But the European paymasters are not convinced.
"We will do our very best to fight for what is urgently needed," said the German Finance Minister, Wolfgang Schaeuble. "But the room for manoeuvre is limited and it's not only one member state, it's all together.
"We must keep in mind that we have a huge responsibility to keep Europe stable."
Greece's Finance Minister, Yanis Yaroufakis, is voicing optimism that his euro zone counterparts will agree to the extension.
The ministers are due to meet on Friday to discuss the request.