Inspire, explore and educate: A look at the world of Qatari literature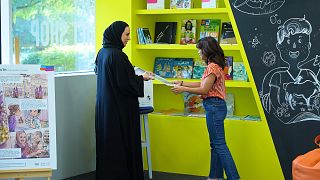 Qatar is a nation with a passion for reading. There's a wealth of books and knowledge in at least a dozen libraries and bookstores in Qatar. New initiatives are popping up around the country to inspire and entertain people of all ages, wherever they are.
One of the main pillars of Qatar's Vision 2030 goal is reading and education. That chapter in the country's story has been written… and who better to fulfill it, than the future generation themselves.
Helping to achieve that is Qatar Reads, a nationwide reading campaign which aims to equip each child in every stage of their life with the tools to empower their minds through books.
"The Family Reading program is a flagship program at Qatar Reads. It's the biggest one with over 1,100 kids subscribed," Nada Bahzad, Senior Program Development Officer at Qatar Reads told Euronews. 
"The main goal was to encourage them to read and to select the books that suit these age groups best. And they're engaging the most with different themes every month to keep the kids engaged. We deliver to their home, every month, a package with two books, either English, Arabic or bilingual - one of each language. We also deliver to them activity sheets and a comic based on a specific theme of every month."
The program is relatively new, but it's already seeing positive results with long-term benefits.
"What we found is that there's a big increase in the number of children that enjoy reading. It's a daily habit. And one of the most important things to us is that it became a family activity where the parents are involved, their siblings are involved," Nada revealed. 
"So, you can see that we're involving not just the children but the entire community. And we're showing them how reading is the key, the weapon to a prosperous future."
From book subscriptions to book clubs
Also a monthly affair, the community-driven initiative also encourages reading, but for busy adults. These ladies call their book club The Reading Malikats - or 'The Reading Queens'. 
Founder Tracy George first set up a group to help herself settle into a new city.
"When I came to Doha, I started asking around where is the nearest book cabin, and everybody kept saying: What? What's that? I said, well, let's start one," Tracey revealed. 
"So, we took to the ladies forum. And I said, Would anybody be keen? And the next thing I got this flood of women saying, Yes, yes yes yes yes, so I said okay, let's do this."
Bounded by their love for books, The Reading Malikats meet up once a month to share their thoughts on a book they've collectively chosen to read.
Book clubs are becoming increasingly popular in Qatar, and venues in Doha's Pearl district provide the perfect setting for a gathering of bookworms. 
And it's through these diverse books that members get to expand their reading repertoire and explore a world they normally wouldn't.
"In today's society people tend to read more social media than real books. We enjoy reading books, we should encourage other people to also read books," said Christine Leang, a member of The Reading Malikats.  
"You enter a universe, the one of the author, and you are encouraged to interpret, to think. So reading is an amazing and active way of understanding the world," she added.
Meeting Qatar's first female English fantasy writer
Someone whose work will likely be discussed at a future book club is Kummam Al Maadeed. She is Qatar's first female English fantasy writer. Sitting down with Euronews, Kummam discussed the magical worlds she creates to help cope with her own personal struggles.
Kummam talks very openly about mental health and her battles with depression. Her first novel, 'The Lost Rose', deals with this. But why did she decide to turn a difficult situation around?
"The story had to come out. So, I enjoyed writing it. But then after... I was so afraid getting it out...people will know that this is what's in my mind. But then I was like, I'm going to get it out, it has to be out and I'm going to help people because knowing that I had depression completely helped me and changed my life because I knew that something was wrong and I knew how to fix it," the author told Euronews. 
"So, knowledge is power...I wanted to give that to people," Kummam said.
The Qatari author says the magical worlds she creates give her the courage to face your demons.
"If you have your depression, you imagine it as, for example, a creature like a cat or something, and you talk to it and you understand that it's... You somehow humanise it. So..it's easier for you to deal with it," Kummam al Maadeed explained.
"It's always the unknown that scares people. So, for me, it's just… It's something that I lived with, with reading books, especially like with Harry Potter, The Lord of the Rings. I discovered that it is an actual tool."
"One of my favorite points in my career, when one of my teenage readers came to me and she said, You helped me deal with my depression. And I was like, that's my point, that's my purpose."
Kummam says that writing gave her the courage to seek better resources to deal with her mental health concerns. But how can the issues of mental health can be better addressed in the region?
"I think it changed a lot from the days when I was at university, like in around 2008-2009. The more you know, the better you feel. Because for example, if you have a flu or something, if you don't know if it's COVID or H1N1 or like just a seasonal flu, you will not know what kind of medicine you need. So, it's the same thing with mental health. The more we normalise it, the more we say it's okay, all of us have it, the more we can like get the help that we need," she told Euronews.
"It was like one week before my first novel...was supposed to debut and I was like, people... maybe will not like that I'm writing fantasy, like more a medieval kind of European style," Kummam admitted.
"I'm writing English. I'm writing like a whole new genre here in Doha. I feared the judgement. But the moment it went out, most of the people who are actually my readers, the young adults and the teenagers and the people in their twenties, they received it really well and I was so happy. And some of them said, Oh, you opened the door for us to write as well in this genre, and we love these books."
"Don't think about success," she concluded. "Just be true to your story. Sit down, write, and after that, everything will, you know, will come with it."
Roza Publishing House
In 2013, Dr Aisha Jassim Al-Kuwari was an author looking for a Qatari publisher. Now, a decade later, she is a Qatari publisher supporting local authors.
The country's first private publishing house, Roza Publishing, hopes to enrich cultural life by supporting local authors and presenting a diverse range of Arabic books, while also promoting the importance of reading across Qatari society.
"Our community is the one we publish these books for. One of the challenges is continuity and having support that will make us continue to achieve these goals," she told Euronews.
Al-Kuwari opened Roza Publishing House in 2017, making her the first female Qatari publisher - a responsibility she doesn't take lightly.
"Roza Publishing House was launched in the name of Youth and Spirit of Youth and started to feed the Arab Library and the World Library with Arab voices," Dr. Aisha Jassim Al-Kuwari said. "Working in the field of publishing and bookmaking is very difficult, but we are continuing. Our goal is that the world reads what is written inside Qatar."
Book fairies: inspiring future book worms
Meanwhile, at Moka Caffe in The Pearl District, book lovers are doing their part to get more Qatari residents reading - one free book at a time.
"We put a little magic on it," said Jean Bayaborda, the founder of Book Fairies book club in Qatar. "We have stickers we put on the book saying, 'Take this book, read it, and leave it for the next person to enjoy.' And then there's a note where it's written 'free book' and we leave it around public areas for people to find."
Book Fairies began in the UK. Jean Bayaborda brought the idea to Qatar in 2017 and was then invited to be the country's official Book Fairy. There are now 17,000 book fairies in more than 100 countries.
"It's about connecting people and sharing your passion with them," she explains.
There are now more than 20 book fairies in Doha – and they've dropped off more than 500 books across the city.
"The idea of dropping books around Doha is really good. Even if you don't know who gave you the book, you can drop it somewhere after you finished reading it so someone else can read it," says Book Fairy Jenni Porci.
The idea of paying it forward - and the anonymity behind it - is why many book fairies willingly give up their free time to spread the joy of reading.
"When I'm going to a café and I receive a free book, it's like a gift. I can read it and learn new things," book fairy Perla Rema Bote told Euronews.
At Roza Publishing House, Dr Aisha Jassim Al-Kuwari has already published more than 200 Arabic books and hopes to encourage more local authors to pick up a pen.
"When we make a book, we invest in the human brain, we build generations. We leave a meaningful cultural legacy for future generations," she concluded.