Qatar opens its doors to the performing arts
By Miranda Atty and Aadel Haleem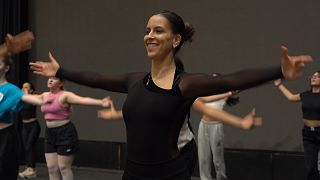 In the past, Qatar has taken a cautious approach to performing arts such as dance.
But as host of the 2022 football World Cup, the country laid on a wide range of public events.
And now, from aerial arts to street jazz, visiting musicians, and Bollywood musicals, Qatar is opening up to a vibrant dance and performance scene.
A Festival in Motion
The Festival in Motion was conceived as a celebration of dance, music, art, and architecture by Her Excellency Sheikha Al Mayassa bint Hamad bin Khalifa Al Thani, Chairperson of Qatar Museums.
Performances were organised in ten different iconic places around Doha and Qatar, drawing inspiration from the public spaces and heritage sites. 
Acclaimed composer Nico Muhly  teamed up with world-renowned choreographer Benjamin Millepied to co-curate the festival.
In one of the events, the entire outdoor courtyard of the National Museum of Qatar, was taken over by dancers, for a performance titled 'Anthem'.
"Essentially, if you look at the way this building is put together, it's a series of interlocking gestures, and it's physically impossible to see it all at once," said Nico.
"And you always have to reframe everything as it's as your brain is processing it. And musically, that to me was really exciting, to create a sense of harmony that's constantly shifting or a sense of rhythm that's both steady and unpredictable. So, the music and the dance and the building are in a near-constant conversation."
Tapping into that conversation was something Nico and Benjamin wanted to do with every space used.
"Initially," says Nico. "We were thinking about… 'Oh, we should find a bunch of performance venues'... And then we thought, well, actually, what would be amazing is to take advantage of the incredible architecture, not just in Doha, but around the country and new things and old things living side by side and the power that dance and music have to transform a space in real-time."
Nico and Benjamin have worked together on and off for 20 years, but this collaboration was the biggest they'd yet attempted with at least six performances a day, for thirteen days.
A dance performance on dhow boats docked near the Museum of Islamic Arts was created by Celia Hollander.
"Each boat has its own little track that gets played, and then each boat has one or two dancers on them," explains Nico. "So, you have this, basically, eight-part conversation. And similar to this space, you cannot perceive it all at once. So, if you stand in the middle of all of the boats, you still are only hearing the ones that are closest to you. So, it forces the viewer into a kind of dance of her own in a sense."
The Festival in Motion made ordinary places extraordinary, offering a new and unique perspective on familiar Doha landmarks.
Black Eyed Peas and a fire-breathing spider
During the FIFA World Cup, the visitor experience was bolstered by plenty of live entertainment. Away from the pitch, there was no shortage of concerts and musicals, to the delight of fans of live shows.
Soon after the final whistle blew on the World Cup's first match, the Black Eyed Peas got the party started. The event was organised by Alchemy Projects.
"This is the first time when these big brands are brought to one place and that's what we're doing as Alchemy Projects, we're bringing the experiences to people," said Diana Fazlitdinova, Head of Marketing at the event management and entertainment agency.
One of those experiences was a fire-breathing spider. First seen at the Glastonbury Festival, this 50-ton Spider housed world-class DJs at the Arcadia Music Festival.
"The Spider is made from over 90% recycled materials," says Bertie Cole, designer at Arcadia. "The eyes are after-burner units from military jet engines. The top muscles are from helicopter fuselages. The legs themselves are from Customs and Excise scanning machines from the port. There's loads of military hardware all brought together into a sculpture, but ultimately its purpose is to unify people."
The ability to unify people through music is why Dutch DJ Ferry Corsten loves what he does.
"It's always gone hand-in-hand," he explains. "Sports, performance, with music because it stimulates you. Whether it's hip hop or dance or EDM or rock or whatever, that's what music does and that's why it works so well."
Passions fused in one love
Moroccan-American rapper French Montana  performed at the brand new Qetaifan Island and says his two passions are forever linked.
"I feel like that's the blessing with soccer and music," he says. "Those are the only two languages that bring people from all around the world together, in one room. I feel like they're all different faces but it's one love."
Dubbed Entertainment Island, Qetaifan offered something for the entire family. Director Giuliano Peparini's acrobatic canal spectacle, The Fisherman's Dream, explored Qatar's rich history from a small, pearl diving village to its discovery of oil and gas.
Making an emotional connection
World-class footballers were not the only ones showing off their fancy footwork in Qatar. The same could be said for the actors of the stage musical adaptation of the 2001 Indian comedy-drama Monsoon Wedding. The musical took more than a decade to put together and brings new life to the Golden Globe-nominated movie from award-winning director Mira Nair.
"It's a portrait of a reality check version of an Indian wedding, when you come together," she says. "There is laughter, there is joy, there is secrets that are exposed, there is drama of every kind. So, it's an exploration of love and slight madness within an Indian family as they come together to create a wedding that they hope will happen."
To make the musical happen, Bradley King brought in equipment from all over the world, including New York and Dubai. He says lighting design is like visual music composition.
"Putting the show together is a really long, really labour-intensive process," he says. "It's a labour of love for a lot of folks. I know Mira's been working on this project almost since the movie came out, turning it into a musical."
Namit Das remembers watching the movie in a small theatre in Delhi. And now, two decades later, he's part of the cast for the stage adaptation.
"The story tells you that human beings don't change," he explains. "Because the structure of the family essentially doesn't change, right? Anywhere in the world. And that's why everywhere, wherever we go, people will connect. And people will have an emotional connection."
From musicals to concerts, an emotional connection is just as important as the spectacle itself.
"You can have everything here," says Diana. "The food, beverages, the biggest DJs and the unique experiences and, of course, memories."
Memories from the Fifa World Cup Qatar 2022 that will stay with tourists and locals alike for the rest of their lives.
Moving out from behind closed doors
Dance can be transformative, in terms of physical health, mental health or even our social circles. But in Qatar, the dance community was traditionally held behind closed doors.
That's something Fiorella Otero was determined to change. Back in 2018, she launched Brava Studio  - which offers dance and aerial arts classes. And it's having a huge impact.
"I moved to Qatar 12 years ago," she recalls. "And every time I go to a new country, what I usually do is I look up, where can I take dance classes? I realised that there wasn't a variety in the types of dance offered, especially for teens and adults. So, I thought, you know, why do I have to travel outside of Qatar to take other dance lessons? Like, why can't I have it here? So, that's kind of how the idea of Brava studio came about."
Fresh off the back of choreographing the official FIFA World Cup music videos, Fiorella Otero is overseeing her students' dress rehearsal before their end-of-term showcase.
"I do several classes," says dance student Reyana Semaan. I feel like dance is an escape from reality. Whenever I don't feel good, I either listen to music and jump to it or whenever it's a bad day and I remember I have dance. It's a nice feeling. So, I would call it an escape."
Tackling misconceptions
Tackling misconceptions around dance and religion was important for Fiorella.
"We're so lucky and blessed that we have a lot of Qatari students who love performing arts, who love dance, who love aerials," she says.
"I'm from Qatar," says student Rania Al-Khalaf. "And I was always interested in dance. And one of the most important things for me was somewhere I feel comfortable, somewhere you can just escape reality."
Seventeen-year-old Timaa is taking part in lots of dances during the showcase. She has even choreographed one herself.
"I've met people who aren't just colleagues but they're friends," she says. "So, Brava Studio brought a lot for dancers in Qatar and the dance community, which I'm so grateful for."
All of the teachers at Brava Studio are formally trained. Aside from offering dance classes, it's also the first aerial arts studio in the country.
"A lot of the times I have students who've had tough days at school," says aerial arts instructor Mollie Brown. "Who come here as their break and their free time and the time that they like to relax and just chill. Nothing beats this sort of workout. And, yes, you can keep nice and fit, healthy and mentally keep really good."
Mollie teaches boys and girls as young as four to use the hoops and the silks.
"She teaches us the moves and then she helps us if we have any struggles," says aerials art student Aurelia Chan.
"You have to think about your feet and where you're going to position your arms and legs."
"In the beginning, I was terrified," says student Amanda Marcano. "But Mollie always talks to us and tells me: trust me, you're fine. If you weren't, you wouldn't be on the hoop right now. You keep doing it, and it gets easier every time."
Running the studio is a big commitment for Fiorella, but she still finds time to perform on the day of the showcase.
"Dance is the universal language," she says. "And I think the beauty of it is, is that you can tell a story without using any words. You use your body to express."
And in this performance, and with the Brava dance community, she has certainly done that. Some inspiration to get us all moving a little bit more.