Watch: 'We are fighting for the values of Europe,' Zelenskyy tells US Congress
Comments
By Euronews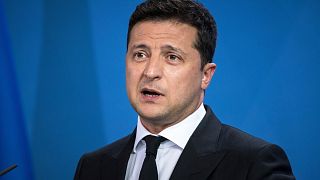 -
Ukraine's president Volodymyr Zelenskyy has pleaded to the US for more help and tougher sanctions on Russia.
Zelenskyy made the requests during a speech to the US Congress on Wednesday. 
"Now it is true in the darkest time for our country, for the whole Europe," said Zelenskyy. "I call on you to do more. New packages of sanctions are needed constantly every week until the Russian military machine stops. Restrictions are needed for everyone on whom this unjust regime is based. We propose that the United States sanctions all politicians in the Russian Federation who remain in their offices and do not cut ties with those who are responsible for the aggression against Ukraine."
Representatives and senators gave him a standing ovation, before and after his short remarks, which began in Ukrainian through an interpreter but then switched to English in a heartfelt appeal to help end the bloodshed.
"This is a terror Europe has not seen for 80 years and we are asking for an answer from the world," Ukraine's president said. "Is it too much to ask for a humanitarian no-fly zone?"
"Today, the Ukrainian people are defending not only Ukraine, we are fighting for the values of Europe and the world, sacrificing our lives in the name of the future. That's why today the American people are helping not just Ukraine, but Europe and the world to keep the planet alive, to keep justice in history. Now, I'm almost 45 years old today, my age stopped when the hearts of more than 100 children stopped beating. I see no sense in life if it cannot stop the deaths.
Zelenskyy finished with a direct plea to his US counterpart Joe Biden.
"I wish you to be the leader of the world," he told Biden. "To be the leader of the world is to be the leader of peace."
Zelenskyy's speech was part of the Ukrainian president's engagement strategy, which has seen him speak to parliaments across the world.