Ukraine war: Overwhelming majority of Ukrainians face poverty if war continues, UN warns
Comments
By Euronews with AP, AFP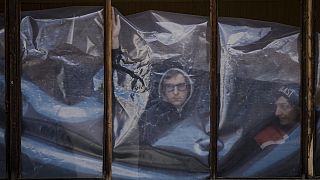 Copyright

AP Photo/Vadim Ghirda

-
Thursday marks the start of the third week of war in Ukraine, after the invasion launched by Moscow on 24 February.
The fighting has forced more than three million Ukrainians to flee their homes, with thousands of people killed or wounded and widespread damage in the wake of shelling and aerial bombardments.
Follow our live updates below or tune into Euronews in the video player, above.
03.17.2022
06:56
Here are the latest key developments to know: 
The first survivors are beginning to emerge from a shelter underneath a Mariupol theatre which was bombed by Russian forces on Wednesday.
It is still not known if there were any deaths or injuries in the attack, which the city's mayor called a "genocide".
The Ukrainian city of Chernihiv 'has suffered colossal losses and destruction'.
An artillery strike on a school and community centre near Kharkiv 'kills 21 people'.
France, the UK and US have called for a United Nations Security Council meeting on Thursday to discuss Ukraine, ahead of a vote on a Russian resolution demanding protection for Ukrainian civilians in "vulnerable situations". 
Britain is sending more anti-aircraft weapons and military personnel to Poland, as the UK's UN mission says "Russia is committing war crimes and targeting civilians." 
President Putin has spoken out on television to condemn Russians who don't support his war efforts. "We will always be able to distinguish true patriots from scum and traitors and will simply spit them out," he said. 
Kremlin hits out after Joe Biden calls Vladimir Putin a 'war criminal' 
It's now three weeks since the war began.
03.17.2022
22:02
UN fears vast majority of Ukrainians might face extreme poverty, economic vulnerability
The UN political chief is calling for an investigation of massive civilian casualties and the destruction of hundreds of residential buildings, schools, hospitals and other civilian infrastructure in Ukraine, and for those responsible to be held accountable.
Undersecretary-General Rosemary DiCarlo told the UN Security Council Thursday that "international humanitarian law is crystal clear" in prohibiting direct attacks on civilians in military operations and ensuring their protection. Yet, she said, many of the daily attacks that are battering Ukrainian cities "are reportedly indiscriminate, resulting in civilian casualties and damage to civilian infrastructure."
DiCarlo cited the UN human rights office's latest statistics: 1,900 civilian casualties from the start of the war on 24 February to 15 March, comprising 726 people killed, including 52 children, and 1,174 injured — with the actual number likely much higher.
"Most of these casualties were caused by the use in populated areas of explosive weapons with a wide impact area," she said.
The UN development agency UNDP projects that if the war continues, 90% of Ukraine's population could be facing poverty and extreme economic vulnerability, "setting the country — and the region — back decades, and leaving deep social and economic scars," she said.
03.17.2022
21:17
US officials evaluating Russian war crimes in Ukraine, Blinken says
Secretary of State Antony Blinken says US officials are in the process of evaluating and documenting potential war crimes committed by Russia in its war against Ukraine.
The statement to reporters on Thursday came one day after President Joe Biden called Russian leader Vladimir Putin a "war criminal".
Blinken says he believes the intentional targeting of civilians in Ukraine would amount to a war crime, and that there will be accountability and "massive consequences" for any war crimes determined to have occurred.
A group of 45 countries are working together to investigate possible violations and abuses, after the passage of a resolution by the United Nations Human Rights Council to establish a commission of inquiry.
There is another probe by the International Criminal Court, an independent body based in the Netherlands.
03.17.2022
19:46
Russian army kidnaps another local official in Kharkiv region, authorities claim
The Russian army has kidnapped Viktor Tereshchenko, the head of the Velikoburluk community in the Kharkiv region, the area's administration head Oleh Syniehubov said on Thursday.
Tereshchenko was allegedly first summoned to his office and then taken to the local police station. The latest reports from the local outlets claim that he is still being held there.
03.17.2022
19:02
Refugee train routes delayed by technical issues in Italy and Poland
Major malfunctions in electronic control systems have caused significant delays to Polish and Italian trains.
The technical glitches have halted a number of train routes that are being used to transport Ukrainian refugees to other European countries.
Polish government cybersecurity chief Janusz Cieszynski said an investigation had been launched into the malfunction.
The director of Poland's PKP PLK railway company said that the sudden outage took place at 04:00 (CET) on Thursday and affected 19 out of Poland's 33 control centres.
Some scheduled trains were cancelled while other traffic was left standing idly on Poland's 820 kilometres of railroads.

Read the full story here.
03.17.2022
18:52
Those responsible for war crimes will be held accountable, G7 presidency says
G7 foreign ministers spoke today by video conference on the situation in Ukraine, a statement released by the German foreign ministry said.

The ministers called on Russia to immediately comply with the International Court of Justice's order to stop its hostilities in Ukraine and to withdraw its forces.

They called the siege on the southern port city of Mariupol and other cities as well as the denial of humanitarian aid "unacceptable."

"Ministers stressed that those responsible for war crimes, including the indiscriminate use of weapons against civilians, will be held accountable," the German G7 presidency said in a statement.

They also "reiterated the need for increased international assistance to Ukraine's neighbouring countries, which have seen an unprecedented influx of refugees." More than three million Ukrainians have fled the country since the beginning of the war, according to the UN refugee agency.

The G7 is a group of the world's largest advanced economies and wealthiest liberal democracies and includes Canada, France, Germany, Italy, Japan, the United Kingdom and the United States of America.
03.17.2022
18:33
Hearing-impaired Ukrainians fleeing the war find help in Romania
As the war in Ukraine rages on, these Ukrainian refugees have found safety in a shelter in Romania. While they may not hear the war, they are living it.
Euronews Romania discovered entire communities of hearing-impaired Ukrainians that fled the war and entered Romania via the Siret border point. For them, the danger came unannounced, without sirens, without the sound of explosions.
At the border, Romanian volunteers, some deaf themselves, are working tirelessly to help them.

Read the full story.
03.17.2022
18:12
Ukraine wants security guarantees from Turkey as part of any Russian peace deal
Ukraine wants Turkey to be among countries offering security guarantees to Ukraine as part of any deal with Russia to end the war, Ukrainian Foreign Minister Dmytro Kuleba announces after meeting Turkey's foreign minister.
"Turkey is a respected country which is a factor of stability in the Black Sea region," he said.

(AFP)

 
03.17.2022
17:44
US President Joe Biden to speak with Chinese counterpart Xi Jinping on Russia war
President Joe Biden will speak with Chinese President Xi Jinping on Friday in an effort to maintain dialogue between the two countries.

"The two Leaders will discuss managing the competition between our two countries as well as Russia's war against Ukraine and other issues of mutual concern," said White House Press Secretary Jen Psaki in a statement.
03.17.2022
17:41
British defence secretary contacted by 'Ukrainian PM imposter'
The British defence secretary Ben Wallace said "an attempt was made by an imposter claiming to be Ukrainian PM" to speak with him.

"He posed several misleading questions and after becoming suspicious I terminated the call," Wallace wrote on Twitter.

Wallace blamed Russian disinformation for the attempt, stating that it would not distract from "Russia's human rights abuses and illegal invasion of Ukraine".