PM Theresa May to bring thrice-defeated Brexit deal back to Parliament
Comments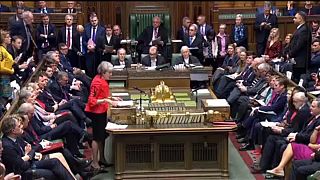 The United Kingdom may have had an extension granted on leaving the European Union, but behind the scenes preparations continue both in Britain and in Brussels, despite the fact that cross-party talks between the Conservatives and opposition Labour party have so far failed to break the Brexit deadlock.
At the same time, the government of Prime Minister Theresa May will bring her thrice-defeated Brexit deal back to Parliament for lawmakers to consider again, with plans to submit proposed legislation in the House of Commons to bring forward the United Kingdom's EU Withdrawal Agreement Bill in the first week of June.
MPs will not hold a fourth vote on the Withdrawal Agreement itself, but on key legislation needed to put the UK's departure from the EU into effect.
"This evening, the prime minister met the leader of the opposition (Jeremy Corbyn) in the House of Commons to make clear our determination to bring the talks to a conclusion and deliver on the referendum result to leave the EU," a Downing Street spokesman said.
"We will, therefore, be bringing forward the Withdrawal Agreement Bill in the week beginning June 3."
The spokesman added that talks on Tuesday evening between Mrs May and leader of the opposition Jeremy Corbyn "were both useful and constructive".
However, a Labour party spokesman said: _"Gaps remain between Labour and the government. We have made clear that we cannot support the Brexit legislation without an agreement... _We have serious concerns about negotiating with a government that is in the process of disintegrating."