Race to be next UK PM begins as Theresa May resigns as Tory party leader
Comments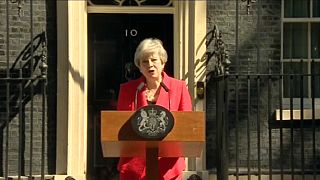 The race to be the UK's next prime minister has begun after a clearly emotional Theresa May announced she will resign as Conservative Party leader on June 7.
May — whose Brexit deal has thrice been rejected by MPs — angered party members when she opened the door to a confirmatory referendum if parliament approved her latest plan to leave the European Union.
After a meeting on Friday morning with Graham Brady, chairman of the powerful 1922 committee of Tory backbench MPs, the prime minister emerged from 10 Downing Street to set her departure date.
An emotional Theresa May said:
"It is now clear to me that it is in the best interests of the country for a new prime minister to lead that effort. So I am today announcing that I will resign as leader of the Conservative and Unionist Party on Friday the 7th of June, so that a successor can be chosen. It is and will always remain a matter of deep regret to me that I have not been able to deliver Brexit. It will be for my successor to seek a way forward that honours the result of the referendum. To succeed, he or she, will have to find consensus in parliament, where I have not. Such a consensus can only be reached if those on all sides of the debate are willing to compromise. I will shortly leave the job that it has been the honour of my life to hold. The second female prime minister, but certainly not the last. I do so with no ill will, but with enormous and enduring gratitude to have had the opportunity to serve the country I love," a tearful Mrs May said.
Theresa May steps down as leader of the Conservative Party on June 7, the week that the process will start to find a new Tory leader.
A new leader is expected to be in place by the end of July. Theresa May is expected to stay on as prime minister until then.