Climate change: Responses to Merkel's vow to neutralise German's CO2 are ambivalent
Comments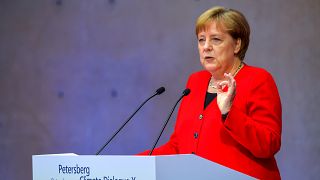 -
Copyright

Tobias Schwarz/Pool via Reuters
Angela Merkel vows to create a plan to make Germany CO2 neutral by 2050 write Reuters.
Addressing a session of the Petersburg Climate Dialogue in Berlin on Tuesday Merkel proposed "that we have a discussion in the climate cabinet about how we could reach the goal of being CO2 neutral by 2050".
The German Chancellor stressed that this target does not mean that the country would release no CO2 emissions, rather that "if there are still CO2 emissions, we must find alternative mechanisms to store this CO2 or offset it,"
The discussion, she continued "should not be about whether we can reach that goal but about how we will reach it."
Greenpeace EU climate policy adviser Sebastian Mang welcomed the move.
"Merkel's comments are a sign that Germany does not want to stand in the way of EU climate action," he said. "This shift makes it possible for EU governments to endorse climate neutrality. But to regain its credibility as a climate champion, Germany will have to push to bring EU 2030 climate targets in line with scientific advice and support drastic action to avoid climate breakdown."
Environmental Action Germany (DUH) however, have raised doubts about the credibility of Merkel's promises. Executive director Sascha Müller-Kraenner wishes to remind the public of Merkel's previous "pledge that Germany would meet her 40% CO2 reduction target" by 2020 which was "unceremoniously buried after the campaign." Not only this he says, but "efforts to introduce binding sector targets for energy, transport and buildings, as well as tangible measures including a CO2 tax" have been blocked by the government."
"The environmental community," says Müller-Kraenner, "have stopped believing in the Chancellor's promises. People don't want to see more promises" he stressed. "They would like to see action".
The Petersburg Climate Dialogue is an informal meeting of representatives from 35 countries who meet to discuss the implementation of the Paris Climate Agreement. Among other areas they focus on is preparation for the next Climate Change Conference which will take place this December in Chile.
This session, of the 13th-14th of May is the 10th Petersburg Climate Dialogue and is chaired by German Environment Minister Svenja Schulze and Chilean Environment Minister Carolina Schmidt.