Angela Merkel wants Germany to aim to neutralise gas emissions by 2050
Comments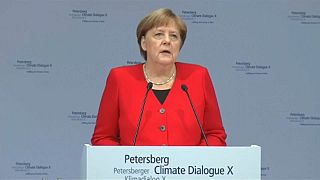 German Chancellor Angela Merkel said she wants her country to aim to neutralise gas emissions by 2050, so as to be CO2 neutral, but this has to be realistic.
Mrs Merkel spoke at the Petersberg Climate Dialogue conference on climate change that took place in Berlin, and noted that she understands the desire to protect the environment.
"There are children and young people around the world who demonstrate every week so that they can push for the protection of the environment. They are pushing all the politicians worldwide. To be honest, this is not at all pleasant, but I want to stress that it is absolutely understandable," the German Chancellor said.
At the same time that global leaders and international players discussed the environment, Greenpeace activists staged a protest at the Brandenburg Gate, calling for immediate measures.
"We must take the right decisions for our future now, that's why we're here. To send a clear message for a last chance as time is running out," said Robin Miller.
Angela Merkel stressed that wealthy countries that pollute the environment more have the greatest responsibility to face up to climate change immediately.