More than 1,500 turtles and tortoises found in suitcases at Manila airport
Comments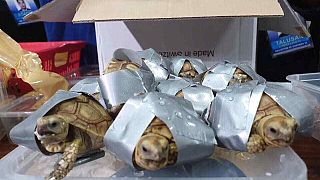 A total of 1,529 live turtles and tortoises have been found in luggage at Manila airport in the Philippines, after being smuggled on a flight from Hong Kong.
Customs officials found them wrapped in tape in four different unclaimed suitcases, packaged in with clothes and other items. One picture shows a turtle taped up and tucked inside a trainer.
The reptiles, which have a market value of more than 4.5 million pesos (€75,000), were handed over to the Wildlife Traffic Monitoring Unit.
Under the law in the Philippines, if caught, the animal traffickers face fines of up to 200,000 pesos (€3,372) and two years in jail.
The animals discovered in the suitcases included ones recognised as vulnerable on the IUCN's Red list of threatened species, such as the Sulcata Tortoise. Red-eared Slider turtles were also among them.