What a surprise! Macron greeted by 'yellow vest' in Argentina
Comments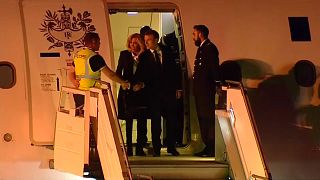 French President Emmanuel Macron probably didn't expect to be greeted by a man wearing a yellow vest more than 11,000 kilometres away from home.
A few minutes after landing in Buenos Aires, Argentina, for the G20 meeting, Macron was greeted by an airport employee wearing a yellow security vest — the kind that people participating in fuel tax hike protests, dubbed the "gilets jaunes", are wearing.
The airport employee was not part of the movement but wore the flashy clothing for security reasons.
However, that did not stop social media users from sharing photos of the ironic situation online.
Local and French people belonging to the movement shared jokes about the encounter.
"So crazy that Macron was greeted by a guy in a yellow vest," said user CarlosDecano77.
With the Argentinian delegation late to greet them, Macron and his wife Brigitte walked downt the plane's steps, only to be greeted by another member of airport staff with a yellow vest.
The French presidential couple was about to get into their car when the Argentinian vice-president Gabriela Michetti arrived to welcome them.
Macron is in the Argentinian capital for four days attending the G20 summit where leaders will discuss trade relations.
The summit has been overshadowed by escalating tensions between Russia and Ukraine over a maritime standoff.
US President Donald Trump has cancelled an upcoming meeting with Russian President Vladimir Putin in Buenos Aires based on the fact that the Ukrainian ships and sailors seized by Russia on Sunday have not been returned.