Macron to pitch French tech talent to US investors amidst rising domestic tensions
Comments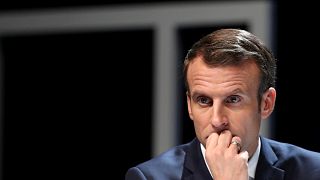 -
Emanuel Macron is set to pitch France's top tech talent to a group of Silicon Valley venture capitalists – but the French President is also hoping to ward off investors looking to "steal" his country's best thinkers and products, sources told Reuters.
Macron will reportedly host a two-day roadshow for executives from US tech's most recognizable investment names, including Sequoia Capital and General Atlantic. Although the event is set to showcase the stars of France's startup scene, the Elysee palace has kept preparations under the radar thus far.
"According to sources, these meetings with American investors were always intended to be done very discretely," Guy Shone, Business Analyst and CEO of Explain the Market told Euronews Tonight. "Part of the reason for that is the way in which the President traditionally tries to tread a delicate balance with the way he manages US relations. He wants to woo the big money, but he also want to provide warnings about how he wants things to be done."
Sources say the meetings aren't simply aiming to develop Silicon Valley's interest in French tech – they will also push investors to support business within France, rather than pulling talent over to US.
The event was scheduled before protests over fuel taxes erupted across the country. With domestic tensions rising ahead of the visit, Macron's administration could be facing an uphill battle in winning the financial backing they're looking for.
"Touring Paris with big money investors against a backdrop of anti-capitalist graffiti is really going to test Mr. Macron's sales skills," said Shone.