Germany's CDU faces backlash over asylum and gay marriage comments | Raw Politics
Comments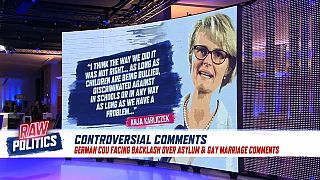 Two high ranking members of German Chancellor Angela Merkel's Christian Democratic Union party have made controversial comments on immigration and gay marriage.
Education Minister Friedrich Merz said, "It is my opinion for some time, that we must be prepared to openly discuss the constitutional right to asylum if we seriously want a European immigration and refugee policy.
"Election campaigns are probably not the best times to start such a debate. But we must have a great and open debate about the question if we want a European solution".
_Watch the debate on the comments on tonight's Raw Politics by clicking on the player above. _