Germany's new CDU leader plans 'improvements' on Merkel's migration policies
Comments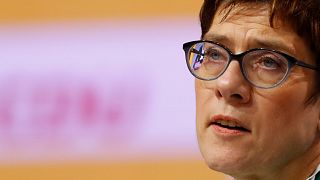 -
Annegret Kramp-Karrenbauer, new leader of Germany's Christian Democrats (CDU), said she is planning "improvements" on Angela Merkel's migration policies before the European election next year.
Kramp-Karrenbauer achieved a narrow victory over more conservative Friedrich Merz in a vote for the leader of the CDU party on Friday.
"I want to convene a 'workshop discussion' on migration and security with experts and critics of migrant and refugee policies to work on concrete improvements," Kramp-Karrenbauer told German media.
"You stand on the shoulders of your predecessor. What is good is continued and where there is room to change things, we will make changes," she said.
Kramp-Karrenbauer argues migrants must learn German and that those with criminal records should not be allowed to stay.
She also insists the CDU should not dwell too long on the issue. 
Kramp-Karrenbauer faces rising support for the far-right Alternative for Germany (Afd) party, which won voters in three eastern states after capitalising on fears about the integration of migrants.