Brexit draft deal: May starts playing the number's game
Comments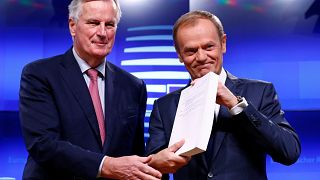 British Prime Minister Theresa May secured her Cabinet approval for the draft Withdrawal Agreement on Tuesday after a marathon meeting, but is likely to face tough opposition in parliament.
Now approved by the British Cabinet, the 585-page document will make its way to EU leaders who will convene on November 25 to approve it.
But reactions in Britain have been mixed, suggesting May faces a tough battle in parliament.
The Conservatives
The Brexit referendum, the subsequent negotiations and now the draft deal have severely divided Britain's ruling Conservative Party.
May's top team
Cabinet ministers — Brexiteers and Remainers alike — had for the first 24 hours refrained from commenting publicly to show a united front.
But that picture of unity exploded on Thursday morning when Brexit Minister Dominic Raab resigned from his post.
The "regulatory regime proposed for Northern Ireland" as well as the "indefinite backstop arrangement" are two of the reasons for the move, Raab wrote in his resignation letter to May.
"Ultimately, you deserve a Brexit Secretary who can make the case for the deal you are pursuing with conviction. I am only sorry, in good conscience, that I cannot," he added.
The aim in May's camp will now be to stem any domino effect Raab's resignation may have.
Brexiteers
Self-appointed Brexiteer-in-Chief Jacob Rees-Mogg lambasted the draft deal on Tuesday as soon as it was announced.
He went further in his offensive on Wednesday, writing to his fellow Conservative MPs to rally support against the deal.
He said that he "can not support the proposed agreement in parliament", decrying the potential £39 billion divorce bill (€44 billion) as well as the backstop which would create a "single customs territory" in Ireland.
"I would hope that Conservative MPs would do likewise," he added.
His European Research Group claims to have the support of 80 MPs.
After an initial media blitz in which he criticised the deal as "as bad as it could possibly be" Boris Johnson mostly stayed quiet on Wednesday.
Remainers
Three Conservative MPs — Justine Greening, Dominic Grieve and Jo Johnson —who had backed Remain in the Brexit referendum campaign, criticised the deal on Tuesday evening during a rally for the People's Vote, which aims to get a referendum on the deal.
Their colleague Phillip Lee, who resigned in government position in July to protest May's Brexit strategy, also disavowed the draft deal.
"This Withdrawal Agreement isn't taking back control, it's a transfer of sovereignty to Brussels," he wrote on Twitter.
"It's not in our country's best interests. It doesn't deliver referendum promises," he added, also calling for a referendum on the deal.
Other political parties
May lost her parliamentary majority in June 2017 snap elections and entered into an informal agreement with Northern Ireland's Democratic Unionist Party (DUP) to prop up her minority government.
With her own party split over whether to back the agreement, May not only needs the DUP's backing but she also needs support from rival parties' parliamentarians — in short, it's a whole number's game.
DUP
Upon the announcement that an agreement had been reached, DUP leader Arlene Foster warned that they would not "accept any deal" and later listed questions she hoped May would answer.
"Is there going to be a difference between us and the rest of the United Kingdom in relations to single market regulations? What's the position in relation to the customs union? How are we going to be out of this arrangement when we leave the European Union or are we going to be tied to something that's adjudicated by the ECJ (European Court of Justice)?," Foster enumerated to Sky News.
She described her Wednesday evening meeting with May as "frank", adding that the prime minister is now "fully aware of our position and concerns."
Prior to that statement, she had ominously retweeted DUP MP Peter Weir who wrote: "Politics may be the art of the possible, but it is also ths science of mathematics of votes." A firing shot to May perhaps?
Labour
Jeremy Corbyn, leader of the main opposition Labour Party, described the agreement as "bad."
"I don't believe that the deal that I've heard of so far is in the national interest. It doesn't meet the needs of all parts of Britain, it doesn't give us a security of our trading relationship with Europe in the future through a permanent customs union in which we have a say," he told the BBC late on Wednesday.
His shadow Brexit Secretary Keir Stamer described the deal as "a miserable failure of negotiation."
Scottish National Party
The SNP is the third biggest party in the British House of Commons and counts two thirds of MPs coming from Scotland — where 62% of voters backed staying in the EU during the 2016 Brexit referendum.
Leader Nicola Sturgeon talked with May over the phone on Wednesday evening. Her take of the conversation: "She tried to tell me that Scotland's 'distinctive; interests had been protected."
"I pointed out that there isn't a single mention of Scotland in the agreement, that it disregards our interests, and puts Scotland at a serious competitive disadvantage," she wrote on Twitter.
Smaller parties including the Liberal Democrats, the Greens and Wales' Plaid Cymry have said they oppose the deal.
Businesses
The Confederation of British Industry (CBI) seemingly offered a reprieve to May, describing the deal as "progress."
"If passed, it moves the UK one step away from the nightmare precipice of no deal and the harm it would cause to communities across the country," CBI Director-General Carolyn Fairbairn said in a statement.
"More clarity on the final relationship is needed, and uncertainty remains high, but this is an important step forward," she added.
The European Union
Reactions started to trickle in on Wednesday from EU officials.
Michel Barnier, the bloc's chief Brexit negotiator, said the agreement shows "decisive progress" has been made, thus triggering preparations for a summit of EU leaders.
European Council President Donald Tusk later confirmed that "if nothing extraordinary happens," the summit will be held on November 25.
In a statement, Tusk praised Barnier for securing "the vital interests and principles of the 27 member states and of the EU as a whole" yet deplored the UK's exit from the bloc.
"Finally, let me say this to our British friends. As much as I am sad to see you leave, I will do everything to make this farewell the least painful possible, for both you and for us," he said.