Hundreds of buffaloes drown in Botswana trying to escape lions
Comments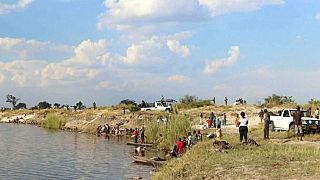 More than 400 buffaloes have drowned in a river in northern Botswana this week, the government said.
The mass drowning occurred on Tuesday night in Chobe River on the border with Namibia.
Investigations by officials in both countries "suggest that an exceptionally large buffalo herd was grazing in Namibia when they stampeded into the Chobe River," Botswana's Ministry of Environment, Natural Resources Conservation and Tourism said in a statement late Wednesday.
"Initial indications are that they were being chased by a pride of lions," it said.
"It is estimated that more than 400 animals drowned due to the massive movement of buffalo trampling, and falling from steep river banks."
Buffalo river drownings are not rare in the region, but the numbers are usually minor.
Namibia's Environment Minister Pohamba Shifeta told reporters that the incident was "unfortunate" but due to natural reasons.
About 1,000 buffalo had battled to cross over a river bank when the stampede started, he said. Three lions were seen in the area.
Namibia said the buffalo meat would be donated to the local community and carcasses were being collected.