Fast news: The week in a minute
Comments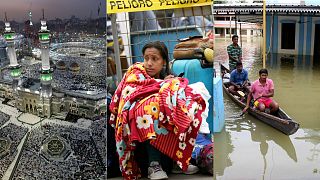 We take a 60-second look at the biggest stories hitting headlines around the world this week.
Former UN Secretary-General Kofi Annan dies 80
Kofi Annan, one of the world's most celebrated diplomats and a charismatic symbol of the United Nations who rose through its ranks to become the first black African secretary-general, has died, aged 80.
His foundation announced his death in Switzerland on Saturday in a tweet, saying that he died after a short unspecified illness.
Former UN chief Kofi Annan was an "outstanding diplomat, outstanding leader and he was a role model for many people" in Africa, South African President Cyril Ramaphosa said on Saturday.
Police injured by acid and quicklime as migrants storm Ceuta border fence
Spanish authorities say scores of migrants have stormed fences separating Spain's North African enclave of Ceuta from Morocco in a bid to enter European territory.
The Guardia Civil says in a tweet that seven policemen were burned by acid and quicklime, a skin irritant, allegedly thrown by some of the migrants as they overran border defences on Wednesday.
Illegal Venezuelan migrants flood into Ecuador, defying passport rules
More than 200 Venezuelan migrants crossed the border illegally into Ecuador on Tuesday, fleeing misery at home as they raced to Peru before new rules requiring they hold a valid passport kick in.
Tears, joy, as Korean families separated by war briefly reunite after 65 years
Separated families from North and South Korea wept and embraced on Monday as the neighbouring countries held their first reunion events in three years for relatives wrenched apart by the Korean War for more than six decades.
Lviv in western Ukraine hit by heavy floods
The city of Lviv in western Ukraine was flooded on Friday after heavy rains. The water level in the streets was about one metre high.
Traffic was at a standstill, cars were submerged, and public transport passengers were trapped by flooding.
Thousands of Hajj pilgrims circle cube-shaped Kaaba in Mecca
Over 1.4 million Muslim faithful have gathered in the city of Mecca for the annual Hajj pilgrimage, according to Saudi officials.
On Friday, many circled the cube-shaped Kaaba in Mecca — Islam's holiest site.
The pilgrimage represents one of the five pillars of Islam and is required of all able-bodied Muslims once in their life.
Police investigators comb area of knife attack in Paris suburb
The two people killed in a knife attack on Thursday in the Parisian suburb of Trappes were the mother and sister of the assailant, a French interior ministry source said.
An official had earlier said police were looking into whether the attack was a family quarrel. The assailant was killed during a police assault.
Putin dances with Austrian foreign minister at her wedding
Russian President Vladimir Putin made a flying visit to Austria to attend the wedding of the country's foreign minister Saturday before heading to Berlin for talks with German Chancellor Angela Merkel.
Trump talks Russia, immigration, 'fake news'
President Donald Trump repeated his claim Tuesday that the Russia investigation is a "witch hunt", hours after his former campaign chairman was convicted of financial crimes and his former personal attorney pleaded guilty to felonies.
Norway crowns 'death diving' champion 2018
There's a contest for diving daredevils in Norway, with a twist.
Competitors jump off a 10-metre high diving board, stiffen their body on their way down and curl up right before they hit the water.
They call it the death plunge diving, or Dodsign in Norwegian.
EU's Moscovici says Greece on way to sustainable recovery
A slew of austerity measures undertaken by Greeceas part of its bailout will lay the basis for the country's sustainable recovery, European Economics Commissioner Pierre Moscovici said on Monday as Greece exited the last of its three bailouts.
Violent clashes mar Eid celebrations in Indian-controlled Kashmir
Violent clashes marred Eid-al Adha celebrations in Indian-controlled Kashmir on Wednesday as anti-India protesters tried to rally in the region's main city Srinagar.
Indian security forces fired tear gas and shotgun pellets to disperse the protesters.
Israeli police handout shows moment officer attacked with knife
Israeli police released footage on Friday showing what appeared to be an attempted stabbing attack on an officer in Jerusalem.
Israeli police said officers shot and "neutralised" 30-year-old from an Arab town in Israel who tried to stab them as they were on duty in Jerusalem's Old City.
Georgian solves six Rubik's Cubes underwater in single breath, aims for world record
An 18-year-old student from Georgia, Vako Marchelashvili, solved six Rubik's Cubes underwater in one breath on Friday (August 17) with the aim to set a new Guinness World Record.
He was underwater for one minute 44 seconds and 25 split seconds.
Nun throws out perfect pitch at Chicago baseball game
Sister Mary Jo Sobieck took the mound over the weekend at the Chicago White Sox game and threw out what could only be described as the perfect pitch.
Sobieck is a nun at Marian Catholic High School.
Helicopters used to rescue people stranded by floods in Kerala
Rescuers used helicopters and boats to evacuate thousands of people stranded on their rooftops on Friday, following unprecedented flooding in the southern Indian state of Kerala.
More than 160 people have died in the state during the past week.