Putin dances with the bride at Austrian Foreign Minister's wedding
Comments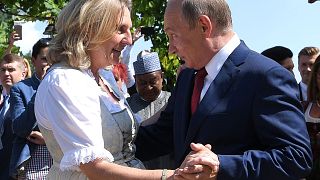 Russian President Vladimir Putin attended the wedding of the Austrian Foreign Minister Karin Kneissl on Saturday. He was on his way to Germany where he was due to hold talks with Chancellor Angela Merkel.
Opposition politicians in Austria have criticised Kneissel for inviting Putin, accusing her of undermining European Union foreign policy.
Mr. Putin presented the bride with flowers and presents and went on to dance with her at the event in southern Austria near the border with Slovenia.
The Russian president was accompanied by a band of Cossack singers who performed for the wedding guests.
Karine Kneissl is an academic with no party affiliation. She was chosen as foreign minister by Austria's far-right Freedom Party, currently a partner in the coalition government.