Ecuador shuts door on Venezuelans without passports
Comments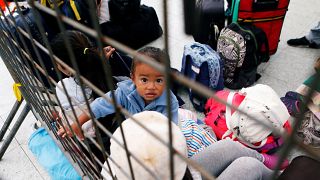 Venezuelans hoping to travel through Ecuador camped outside the border yesterday after the government introduced tighter entry requirements.
They were allowed into Ecuador using national ID cards.
With the influx of immigrants on the rise, the government wants to see passports, something many don't have.
But Venezuelans say that passports on the black market cost the equivalent of four years of full-time salary.
Endry Useche who slept outside the checkpoint in Tulcan, Ecuador, said he is disappointed in the decision and unsure of what the future holds for him.
"I feel a bit impotent because the truth is I arrived here with the expectation of wanting to work and wanting to make a new life and they closed the doors on us this way, by asking for passports and documents. It's very difficult for many of us because we don't have them and we can't get them over there."
Many Venezuelans have been passing through Ecuador on their way south to Peru or Chile.
Some 600,000 have entered the country so far, fleeing economic hardship at home.
Ecuador has declared a state of emergency in three provinces.
Clashes on Brazil border
Meanwhile there were skirmishes in Pacaraima, near Brazil's crossing with Venezuela, when angry residents attempted to drive out Venezuelans.
The clashes came after a local was stabbed and beaten, officials say.
The demonstrations forced hundreds of Venezuelans to flee back into their country. Tens of thousands have poured over the border into Brazil over the last few years,
The Roraima government has declared the immigration influx a social crisis and asked Brazil's federal government to close the border, which it will not do for humanitarian reason.