Watch: Koreans bid family members farewell after brief reunion
Comments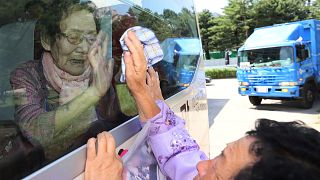 Copyright

Yonhap via REUTERS
Koreans bid their family members farewell after a brief reunion Wednesday.
The three-day reunification began on August 20 and took place at Mount Kumgang resort in North Korea in what was the first reunification event in three years.
A heavily fortified border was built between the divided peninsula following the 1953 armistice, leaving families divided ever since.
Many of the elderly family members were in wheelchairs and struggled to remember their next of kin that they had not seen in over six decades.
Around 90 families were briefly reunited with 330 South Koreans and 185 North Koreans attending to see their loved ones.
Of the 57,000 separated family members, 41.2% are in their 80s while 21.4% are in their 90s, according to government data.
Family reunions began in 1985 but often failed to materialise due to poor relations between the two countries, although relations have thawed in recent months.
North Korean leader Kim Jong-un and South Korean President Moon Jae-in met on April 27 in a historic summit.
It was only the third time leaders from North and South Korea met since the Korean war.
Another set of families are set to be briefly reunified, with South Koreans scheduled to enter North Korea on August 24, at the request of their 83 relatives from the North.