Japan: More than 60,000 people have been given evacuation advisories
Comments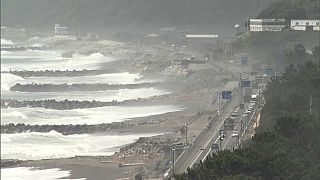 More than 60,000 people living in Japan have been given evacuation advisories as the country is being battered by a powerful typhoon.
The country was already hit by flooding in July.
The centre of Typhoon Cimaron was about 200 km (125 miles) south of Shikoku, the smallest of Japan's four main islands and heading north-northwest.
It's likely to cut across western Japan on Thursday evening.
Once it's hit Japan, it'll sweep over to South Korea peninsula through Friday with the strongest winds along the coast.
Wind gusts could exceed 160 km/h and flooding's expected.
All public schools, the University of Hawaii and non-essential government offices on nearby islands will be closed for at least two days because the typhoon is heading towards the state.
People have stripped the shelves of a downtown Honolulu Walmart of items ranging from canned tuna to dog food.
City residents prepare to make their houses safe as the storm heads their way.