Hawaii : Hurricane Lane downgraded to a Tropical Storm
Comments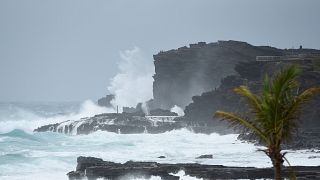 Hurricane Lane has now been downgraded to a Tropical Storm over Hawaii.
It still managed to drench the island with torrential rains and cause severe flooding.
But there's more 'life-threatening' flash flooding expected, according to the National Weather Service.
Some areas have seen three feet worth of water soaking the land and spilling out over roads causing power failures and landslides.
More than 2 feet of rain fell in a 36-hour period by Friday morning on the Big Island's windward side,
The catastrophic flooding saw a number of structures destroyed and some residents were reported to be fleeing their homes
The strong winds are down to around 110 kph and it's expected to continue drifting slowly northward and weaken further.